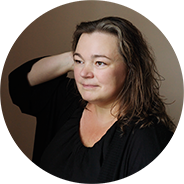 Louise Helmersen from Livingly has a master in architecture from 2000, from the School of Architecture - Royal Danish Academy of Art, Copenhagen, Denmark.

Louise finds inspiration in design, architecture, art and nature. Working with paper demands precision and patience which her works reflect.
Livingly is run by Louise and her husband Kent Sejdelin who is the business manager. So Livingly is a family company working with local employees and partners.
Louise also runs her own studio of graphic and product design. See www.louisehelmersen.com.
In 2015 Louise participated in a national TV program "Made in Denmark" on DR1 where 7 creative craftsmen and artists taught each other to work with their material - iron, wood, silver, paper, leather, ceramics and glass.